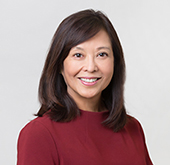 Kathryn Shimbashi McGill
The Alberta Family Wellness Initiative
Manager, Administration
Kathryn Shimbashi McGill is the Manager of Administration at Palix Foundation. She oversees administrative requirements, plans, coordinates and facilitates many Alberta Family Wellness Initiative projects and events including Foundation board meetings and AFWI Advisory Council meetings.
Prior to joining the Foundation in January 2012, Kathryn held positions in marketing and print and broadcast media. She has worked in newsrooms at Global and CITY-Television Stations in Alberta and British Columbia, and in the editorial division of the Calgary Herald.
With a mandate to support national and international events, along with local charities within the City of Calgary, Kathryn has represented and worked on organization teams at prestigious events, including two Commonwealth Games and several Grey Cup events across Canada, as well as being a former member of the Calgary Herald Christmas Fund Selection Committee and the Canadian Progress Club.
Kathryn studied performing arts at Grant MacEwan University, economics and communications at U of A, and broadcast journalism at the British Columbia Institute of Technology.