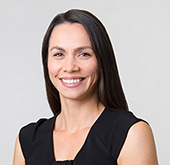 Kim Ah-Sue BBM, MS
The Alberta Family Wellness Initiative
Senior Program Officer
At the Palix Foundation, Kim Ah-Sue manages projects including the Supporting Father Involvement Alberta Program and the Fulbright Canada-Palix Foundation Distinguished Visiting Research Chairs in Brain Science, and Child and Family Health and Wellness. 
Kim has a Master of Science in International Development from the University of London and a Bachelor of Business Management from McGill University. Before joining the Foundation in 2010, Kim worked in the areas of environmental and social impact assessments, workplace health and safety due diligence audits, regulatory permitting, and stakeholder consultation. 
Kim has worked in Canada, the United States, and the People's Republic of China, and is fluent in English, French, and Mandarin.