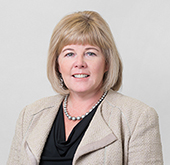 Tammy Stoffels
The Alberta Family Wellness Initiative
Executive Liaison
Tammy Stoffels is the Executive Liaison at the Palix Foundation, organizing and facilitating the day-to-day activities of the Patron and Chair. She manages schedules, appointments, and communications with external and internal stakeholders, and oversees high-level administrative operations on behalf of the Patron and Chair.
With more than 20 years of executive- and management-level involvement, including extensive experience in the healthcare and energy sectors, Tammy plays a pivotal role in assisting the team with the operations of the Palix Foundation.
In the past, Tammy worked in multiple areas of Alberta Health Services (AHS), including the Alberta Children's Hospital Project, the Regional Division of Neonatology, the Clinical Research Program at the Tom Baker Cancer Centre, EFW Radiology.