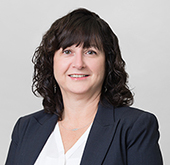 Marisa Etmanski BA
The Alberta Family Wellness Initiative
Director of Communications & Edmonton Office Director
Marisa Etmanski is the Director of Communications at the Palix Foundation and is responsible for the Edmonton office of the Alberta Family Wellness Initiative. She oversees communications and government relations for the Palix Foundation, and is responsible for stakeholder relations in Edmonton and Northern Alberta. In her role, Marisa develops communication strategies for the Foundation, manages the AFWI website, and oversees the development of resources that align strategically with the goals of the Foundation. She also provides editorial direction and review for Apple magazine, which is produced by Alberta Health Services (AHS).
Prior to joining the Foundation in 2007, Marisa held roles including Director of Communications, Communications Manager, and Media Relations Manager for the Premier of Alberta. She provided strategic and tactical communications counsel to two former Alberta premiers, their chiefs of staff, cabinet ministers and members of the legislative assembly.
Marisa has served on the board of directors for the Glenrose Rehabilitation Hospital Foundation and on the Mayor's Task Force on Safe Communities, which resulted in the formation of the REACH Edmonton Council for Safe Communities, which focuses on crime prevention initiatives for the City of Edmonton.
Marisa has a Bachelor of Arts in Psychology and Sociology from Wilfrid Laurier University.